If you use a meat grinder to grind meat regularly at your home, you probably know how essential it is to keep the grinder machine clean. The grinder becomes very dirty every time after grinding the meat. No matter how often you use the grinder, you should always keep this machine clean to prevent any germs and bacteria. You should also clean it before grinding meat. But, how to clean a meat grinder like a pro?
In this article, I will be showing you the step-by-step process of cleaning a meat grinder. I will also share some tips so that you can take proper care of your grinder machine.
Let's get started:
The Proper Way of Cleaning a Meat Grinder
Cleaning a meat grinder means cleaning all the components including blades, grinding plates, sausage stuffing attachments, kubbe attachment, etc. Whether you have a meat grinder machine or a meat grinder attachment, it's better to clean this tool before and after grinding meat. Also, keep the machine in a clean environment.
Preparing the Machine for Cleaning
At first, disassemble all the parts of the grinder and remove the extra meat that sticks on the blade and grinding plates. This ensures trouble-free cleaning. The overall cleaning process is very simple and clear. However, you need to be careful when removing the cutting blade because it is very sharp and can hurt your hand. If you have a large size commercial meat grinder, you may need to spend some time disassembling the parts.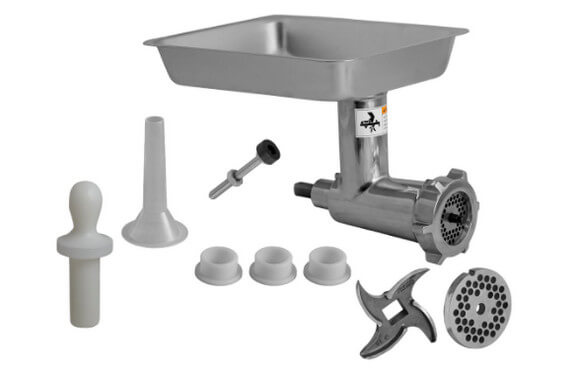 Clean Each and Every Part by Hand or Dishwasher
Meat grinder machine that is dishwasher-safe, can be cleaned by a dishwasher. If you find it difficult to clean the grinder by hand, you should consider choosing a dishwasher safe grinder. To get a good one, you can check out the best meat grinder reviews.
In most cases, you may need to clean the parts of a meat grinder by hand. If possible, use warm soapy water to clean the grinder. Let all the pieces soak for about 15 minutes. When absorbed, the meat residue remaining on the blade or plate will loosen and be easy to clean.
Some meat grinder may come with a cleaning brush. You can use this cleaning brush and soap to clean all the parts of the grinder.
Related Articles: The 10 Best Meat Grinder for Bones
Wipe All Parts Dry
After cleaning all the detachable parts of the grinder, you need to dry them. To prevent any rust, make sure the parts are completely dry before storing. This can be done by putting them in sunlight and using a dry rag or towel. However, do not leave the meat grinder parts in the sun for a long time.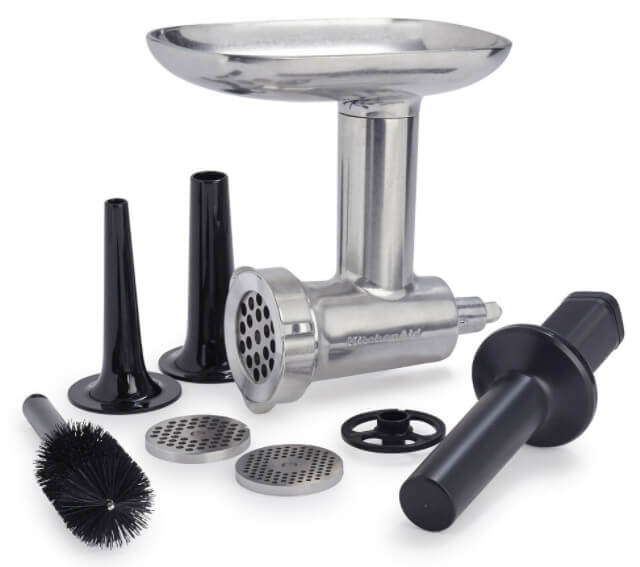 Additional Tips
Here are some useful tips that will help you clean the grinder efficiently and without any problem:
Never put the motor into the water. The electric meat grinder has an engine. When your pour water into the engine, it may get damaged.
Never put meat grinders (that is not dishwasher safe) in the dishwasher, as they can easily damage the metal parts.
Always try to clean the meat grinder immediately after grinding meat. It helps prevent hard-to-remove crusty buildup.
After cleaning, keep the grinder in a clean and dry place.
Always clean the grinder with water before using it.
Related Articles: Best Meat Grinders Under $100 Review
Conclusion
So, these are the step-by-step process of cleaning a meat grinder. In order to get healthy and hygienic ground meat, you should always keep your grinder clean. I hope the above guide will help you clean your grinder machine at your home. If you still face any problem with cleaning your meat grinder, feel free to drop a comment below.